From
http://www.huffingtonpost.com/esther-wojcicki/inviting-all-educators-wo_b_783105.html
Something super exciting and revolutionary for educators worldwide is happening next week, November 15-19.It is a first of its kind and it is only possible thanks to the web and video-conferencing. There are hundreds of
great sessions
and
sixty keynotes.
There are even six tracks to choose between: teacher, student, curriculum,policy, global issues, and learning.
This is an important conference that educators world wide can attend without having to fly anywhere. You can access it from your computer!! You just go to this website Global Education Conference, and use the easy to use Elluminate videoconferencing platform. By the way, it is free. The conference has 387 sessions from 62 countries in multiple languages over the five day period. Sessions are held all day and night to maximize participation in all the time zones. They expect between 10,000 to 15,000 participants but that doesn't mean participants will have a hard time. They have a super easy participant platform which involves video conferencing. You can even ask questions and participate. All the information is available on this website.
This conference is being organized by two super people dedicated to education, Steve Hargadon, conference Co-Chair and creator of the Classroom 2.0 social network for educators and Lucy Gray, conference Co-chair and founder of the Global Education Collaborative. Says Lucy, "In order to participate in a knowledge-based economy, students must be able to connect, communicate and collaborate, and teachers must model this for their kids."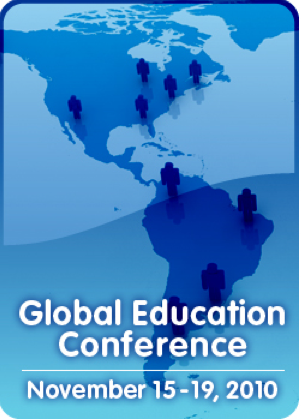 A group of 8th graders from ANSER Charter School in Boise, ID, are presenting ANSER Got Rights on Wednesday, November, 17, at 2 PM (Mountain Time). Here is a link to the resources they prepared for their presentation: http://anser.weebly.com/